Kayak Tour in Komani Lake & Kayak Rentals
Explore Lake Koman by yourself in an ecologic way.
Kayak Tour in Komani Lake are organized by Ferry Berisha and Guesthouse 5 Stinet. We have kayaks with one, two or 3 places, all of them in perfect conditions and with all the safety equipment's.
There are enough kayaks for 40 persons at the same time.
You will be redirected to our secure booking form.
The usual kayak tour in Komani Lake is as below :
Our service starts in Koman
Check in: 08:30, Start: 09:00, End: 15:30
When you are in Koman, we will pick you up in our boat "Dragobia", or by Ferry Berisha if you are there before the Ferry Schedule time, or with other small boats ( depending from the number of the group ) and the first destination is the Peace Island, where the kayaks are.
• When we  start from Komani it will take up to 40 minutes to arrive in the Peace Island.

When we are in the island, we can some time to rest, or to have some time to eat, the food is bio, and produced in our farm in Koman. ( this is optional based on your request ).
After this we will take the kayaks and start kayaking in the Komani Lake.
A full day*
Check in: 08:30, Start: 09:00, End: 15:30
20€
*This price is only for payments via PayPal or Credit Card, if you want to pay Cash when you arrive the price is 30 € for a full day ( or 3000 Lek ).
During the kayaking time we can stop and rest, we can also have stops for swimming, eating, fishing etc.
At the end we will start the way back to the Peace Island.
We also have a guesthouse in front of the Island, where your group can spend the night, a restaurant with traditional local bio food and drinks.
Ferry Berisha ticket is included in the price.
Find other tours we offer.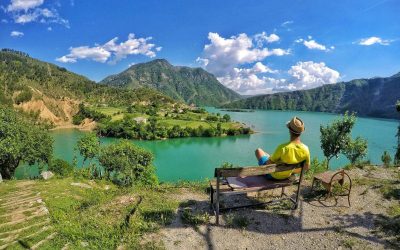 Kayaking, trekking and other activities. You choose your lunch based on traditional foods and drinks of the region For all the visitors that pay the tour online via our website booking form ( Payments via PayPal or credit card ). If you choose to pay CASH the price is 35€ or 3500 Lek.
You will be redirected to our secure booking form.