Shala River Tour
25 Euro / Person for Cash payments
18 Euro / Person for Paypal payments
Day tour to Shala River.
Shala River is a touristic destination that is described by many visitors as the most beautiful pearl of Koman's lake, as Thailand of Albania . The hazy color of water and it's crystal clean water is characteristic of this river. The steep huge rocks, worn by trees and green plants, seem to rise to the sky to protect this beauty that so generously mother nature has offered to our eyes and hearts. What the Shala River offers can not be described in words, therefore Komani Lake Ferry Berisha, for all you who want to visit this wonderful place has made available, every day, small boats.
Departure from Komani at 09:00am and arrival at Shala River at 10:15am gives us about 4 hours to enjoy the fresh air, to swim, explore the area around and not to forget to capture as many unforgettable memories. The return schedule will be every day at 15:45 and arrival at Koman at 17:00.
This year we are also offering pick from Shkoder with mini vans. Tour will be available from 15 May to 15 September 2022.
Find other tours we offer.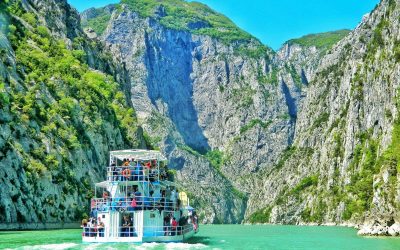 Shkoder – Koman – Fierze – Valbone – Theth
The price of the tour is 175 euros / person when it is paid online via PayPal
( if you want to pay CASH the price is 190 Euro/person )