Tour in Valbona Valley
A miracle of nature that shouldn't be missed but needs to be visited at least once.
Tour in Valbona Valley, a miracle of nature that shouldn't be missed but needs to be visited at least once.
That's why we have arranged everything for you and all is left to do is to enjoy every moment of this tour.
For this tour we  start from Shkodra (with pick up from the hotel where you are staying) around 6:30am,
we take the road to Koman enjoying the freshness of the morning and the first rays of the sun.
Sailing with Ferry Berisha ( or boat Dragobia ) in Komani Lake
At 9:00am we sail by ferry Berisha or boat Dragobia towards Fierze, accompanied by the wonderful sights that this place offers we arrive at the destination around 11:30am, where is waiting the van that will take us to Valbona, passing by Bajram Curri.
We arrive in Valbone at 12:45pm, where is laid the lunch with traditional and fresh foods and drinks, but also with the characteristic hospitality of the area.
Exploring Valbona Valley
The afternoon is dedicated to explore the area, the river bed and possibly the waterfall, according to your wishes.
Around 20:30 we will join again at the guesthouse where a dinner with other meals is served. In the morning, after a comfortable sleep, a good breakfast is enjoyed in the presence of a wonderful panorama and fresh air.
11:00 marks the departure time to Fierze from where we sail by ferry Berisha towards Koman.
Around 17:30 we arrive in Shkodra,
marking this way the end of this tour and of this wonderful experience.
We will visit the Valbona River, the town of Bajram Curri.
The accommodation will be at a guesthouse or hotel.
In the price of the Tour in Valbona Valley are included:
accommodation at the hotel
breakfast, lunch and dinner
transportation from Shkodra to Valbona (round way)
If you like to have a guide it will cost 30 Euro for 2 days.
We advise you to depart by boat Dragobia and return by ferry Berisha in order to try different experiences.
Note: Usually there is no need to hire a personal guide for this tour. Most of the visitors doesn't hire a guide because our staff is professional and everything is already prepared so you can have a wonderful experience. But, in case you think you need a guide, this is not included in the price.
Important note!
You can reserve this tour only by filling the form below and making the payment online via PayPal. The Tour in Valbona Valley price is 99 Euro / person.
Or you can send us an email to kontakt@komanilakeferry.com with the details and we will send an invoice to be paid via PayPal.
Be careful, don't make payments to strangers in the road to Koman or Fierze that offers you trips or false tickets.
WE ACCEPT PAYMENTS ONLY PAYMENTS VIA PAYPAL.

Total price 99 € / person
You will be redirected to our secure booking form.
Find other tours we offer.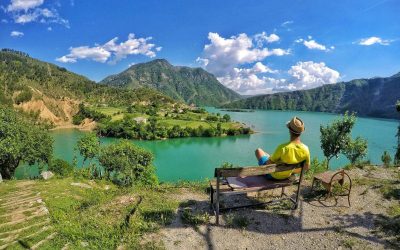 Kayaking, trekking and other activities. You choose your lunch based on traditional foods and drinks of the region For all the visitors that pay the tour online via our website booking form ( Payments via PayPal or credit card ). If you choose to pay CASH the price is 35€ or 3500 Lek.